Mentoring Amplifies –
Community Solutions For 2021
When communities find answers together, everybody wins.
Mentoring Amplifies by helping generations through shared knowledge.
Age differences are an opportunity to learn. Both younger and older individuals today possess knowledge that has become prevalent in our society. Whether you are just reaching your twenties or thirties, or you are in your fifties up, your knowledge of how to live in this world is valuable. Knowledge of this technology-driven society is truly valuable to our older generation, especially those that are no longer spending much time in the work world. Computers, Phones, and Internet communication is everywhere in society. The technology is required today to accomplish our everyday tasks.
From the other perspective, what the older generations can offer our younger generations is life experience, from how to use a checkbook, knowledge of our Constitutional Rights, travel experiences, and apprenticeships, internships, and training that can lead to his or her successful future, such as job and career opportunities.
It is a time to connect generational knowledge, like never before. The old gives way to the new, but the old has lots of knowledge through past experience.
Sharing knowledge is a gift that we all can be part of today.
My life has been filled with wonderful mentors.
Unfortunately, my three favorite job mentors are no longer with us, but I remember all the wonderful experiences and lessons I learned through our relationships.
Because I found a number of career-options interesting over the years, I have three wonderful mentors in different career directions to thank today.
My First Real-Time Job:
Graphic Design Secretary/Designer for the State of Texas
What fun to design posters, create art displays and assist presenting our designs through hospitals and state fairs.
My boss loved his job and we were both like kids in a candy store with lots of fun things to play with. I learned so much and take the lessons I learned about how to enjoy what you do everyday.
College Degreed and Ready To Be A Social Worker –
A Special Needs Social Worker – Working with kids and families struggling with special needs issues.
Finding employment with a wonderful, caring residential facility offering services to people with disabilities and their families, I thought I had found my home for life. This included a wonderful employment center and residential homes.
My Mentor, The Director, gave me advice that I cherish to this very moment. It turned out that this was not my lifetime job, I turned to school teaching.
No Longer School Teaching or Social Worker –
Embarking on a new career as a Personnel Recruiter. I learned outside sales, telephone sales and customer relations by working under the direction of a very strong, career-minded woman.
Her guidance gave me the confidence to work with all levels of candidates and business executives. Working with this career minded, female and being left to run a satellite office on my own, empowered me to eventually start my own independent recruiting firm, which I had for over 20 years.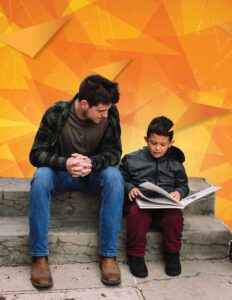 We are experiencing a time when working together can be the answer to issues that we are facing for young and old, in large and small communities. The changes happening around us are changing our lives in ways many of us never expected to see in our lifetimes.
New and old ideas are needed to find answers.
That is where our generation-to-generation connections can solve problems.
Share Your Story with Mentoring.org – Click This Link

I hope you will consider joining in with Mentoring.org's: Mentoring Amplifies Program.
Share your experiences and share the importance that our generation connections can make to our world.
Thank you for reading and Thank you for sharing.
D Foster and Friends.